What Makes A Great Musician?
Is it being great at sight-reading?
Or becoming a technical genius on your instrument?
Or do you have to start lessons early, at age 2?
No.
There's only one thing that every great musician has in common:
They all play music by ear.
Without exception.
Every name you see below either had perfect pitch – or relative pitch – to the highest level: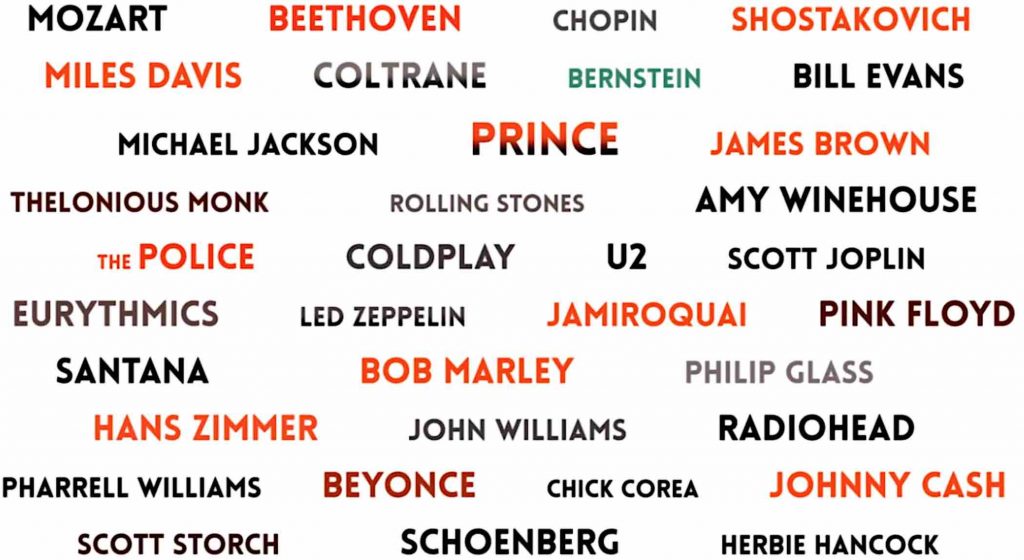 And the more you train your ear – the better every other musical skill gets…
Your composition, your improvisation, your understanding of theory, and your confidence…
They're all tied to how well trained your ear is.
So ear training isn't something that happens AFTER you become a great musician. It's something that has to happen FIRST – so that you can progress quickly to the highest levels.
If I could boil everything down – I'd say this:
Practice ear training and everything else will follow.
The #1 Barrier
Every musician can learn relative pitch, to the highest level – but very few do.
Why?
Because ear training has to be practiced a specific way, and there's many practice techniques that prevent (or even reverse) your ear's progress.
The most common barrier to your ear's development is constantly changing keys.
Most musicians change key from one song to the next – they'll figure out a song in D major. Another in Ab minor. And another in F# major.
But there's two problems with this:
1. You never spot the recurring patterns
Most music uses the same 7 notes and 6 chords. The only thing changing between the songs you play is usually the key signature.
But when every song is in a different key – you get 'key confusion' – and you never spot the recurring patterns.
2. Your Tonal color recognition never develops
An essential part to playing by ear is learning the unique sound of each note within the scale. These sounds are called 'Tonal Colors':
Only the root sounds like the root. Only the minor 3rd sounds like the minor 3rd. And these can be learned and recognized by ear:


When you spend time playing in one key – let's say C minor – your memory of each note's 'color' grows stronger. C sounds like the root every time. Eb sounds like the minor 3rd every time – and so on.
But as soon as you change key – let's say to F minor – now C sounds like the 5th. Now Eb sounds like the minor 7th…
And all of the memories that had been building up from the first key are quickly smudged away – and you're back to square one again.

Most People Practice Things Backwards
Most musicians think that to master music, they have to practice in all 12 keys; Building up their playing little by little in one key, then a bit more in the next key, then the next key…
But this is a guaranteed way to NEVER master music. You'll never scratch the surface to any one key, and you'll stay confused about how music works forever.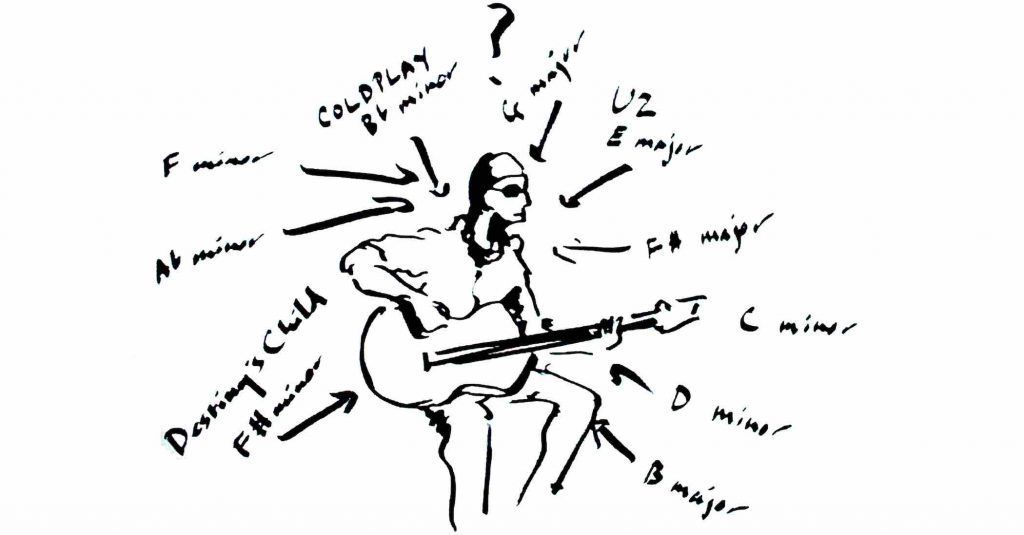 I believe in doing the opposite:
Focus on ONE KEY first – live, breathe, and dream about that key for several months – until you TRULY learn to play by ear – and THEN transpose everything out into the other keys.

A Revolutionary Idea?
So what if we just did away with changing keys for a while? Is that such a bad idea?
For at least 6 months while you focus on ear training, and learning how music works.
This is how I learned to play music by ear.
There was a two-year period, when I was 17-19, when I did most of my playing in one key: C minor / Eb major.
At the time I thought that playing in one key was a bad thing; It went against everything my teachers were telling me: 'Practice in all 12 keys! Practice all 12 major scales! Practice all 12 minor arpeggios!'

But I can now see that my time spent transcribing in one key is what lead to my success.
At the time, my musician friends were transcribing songs by ear just as much as I was – except they transcribed each song in a different key, by playing along to the original songs.
Yes, they figured out each song, one by one – BUT they never improved for the next time.
They remained confused because they never saw the recurring patterns between a Coldplay song, a Destiny's Child song, and a Hans Zimmer soundtrack.
Whereas I was transcribing everything in one key – and in as little as 20 transcribed songs, I could already see a lot of the recurring patterns – in the melody and chords.
My Ear Training Breakthrough
Learning to play music by ear changed my life, more than anything I've ever done.
Before, I was a 'C' music student who couldn't grasp theory, wrote bland sounding music, and lacked confidence…
But now, I've reached close to my full potential as a musician and enjoyed a lot of success…
I've gained a master's degree in composition…
I've composed music for the London Chamber Orchestra, which lead to performances at London's National Gallery and Royal Albert Hall…
I played jazz piano in my college big band, composed jazz songs and directed rehearsals…
And I've taught hundreds of thousands of musicians through my YouTube channel.
I learn everyday by listening to music.
I practice everyday by listening to music.
I am immersed in music constantly – and nothing can ever take that away from me.

I've seen how much ear training changed my life – and now I want to take you on the same journey.
My 'One Key Ear Training' System

The Musical Ear is my complete video course in ear training. It's the only course taught entirely in one key – beginning to end.
Imagine the clarity you'll get from watching 35 video lessons – all taught in one key.
For the first time you'll get to focus on how music works, without distraction.
I guide you from complete beginner – no ear training experience needed – to playing almost all music by ear.
I'll take you on the exact path that I went through when I trained my ear. We'll transcribe the same songs that I learned on.
And I'll share 15 years of epiphanies, insights and hard lessons – which you can go through it in a fraction of the time it took me.

Here's A Sneak Peak At What You'll Learn

The Musical Ear focuses on ear training, and music theory. I teach you the rules of music, and how those rules sound.
This is as much a course about harmony – as it is ear training.
You'll get 32 of my best videos in a step by step series. Each lesson is roughly 15 minutes long and dives deep into one topic.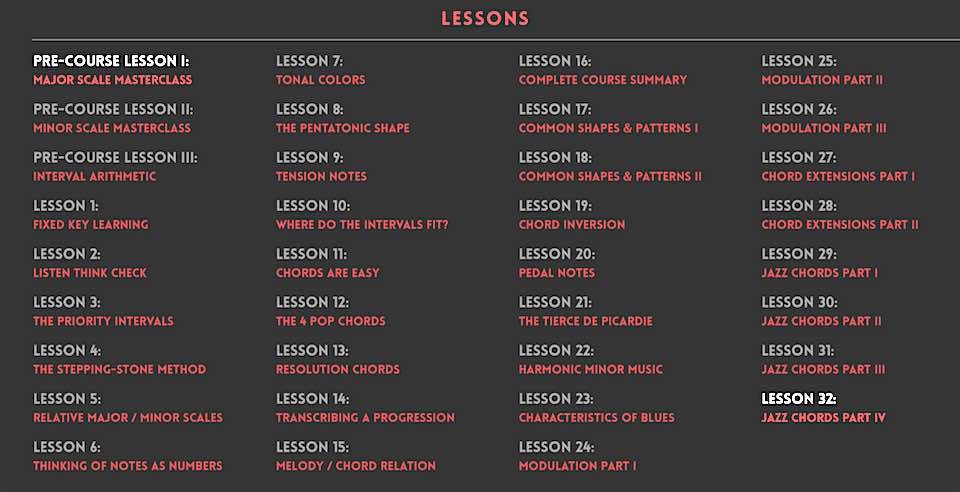 I test you as much as I teach you – by blacking out the piano keyboard and asking you questions, while walking you through my thought process.
The course is vibrant with real world music – TV theme songs, Christmas songs, funk music, modern popular music, rap riffs, and film music – all of which we'll transcribe together.
Module Breakdown
LESSONS 1 – 16 = DIATONIC TECHNIQUES | First you'll learn how to play the 90% of music which stays within one key. Including:
– The 6 intervals (not 12!) that most melodies are built of and how to identify these by ear.
– The pentatonic shape – how to spot this 5 note pattern that's in nearly every song you've ever heard.
– The swaying major / minor effect – why most music is not major, and it's not minor – it's both!
– Chord progressions: The 6 most used chords and how to transcribe any progression by ear.
– Tension notes – the 2 notes that instantly tell your ear where a melody is within the scale.
– The melody / chord relationship – when you know one, how to guess the other.
– 13 Common melodic shapes – discover the most common melodic shapes that you're hearing every day.
– 12 Common chord progressions – the most common chord shapes and how to spot them.
LESSONS 17 – 28 = OUT OF KEY TECHNIQUES:
– Chord inversion – why inversion is used, how it sounds, and the only chord that usually gets inverted.
– Chord Extensions – 7th, 9th and 11th chords – theory and how to spot them by ear.
– Modulation – the 3 modulations that make up 80% of key changes.

LESSONS 39+ = FINISHING UP:
– Making an arrangement, and more Transcribing Case Studies.
– Playing in all keys – we'll end by transposing EVERYTHING from our one key, into all 12 keys. You've now reached MASTERY in understanding how harmony works, and I show you how to transpose that knowledge into all keys quickly.
Bonuses
In addition to the video lessons you'll also get:
100+ Song Library | Real life songs, handpicked by me, and embedded as YouTube videos beneath each lesson. This is an organized collection of "safe music" appropriate to practice on. Just click 'play' and put your transcribing skills to the test.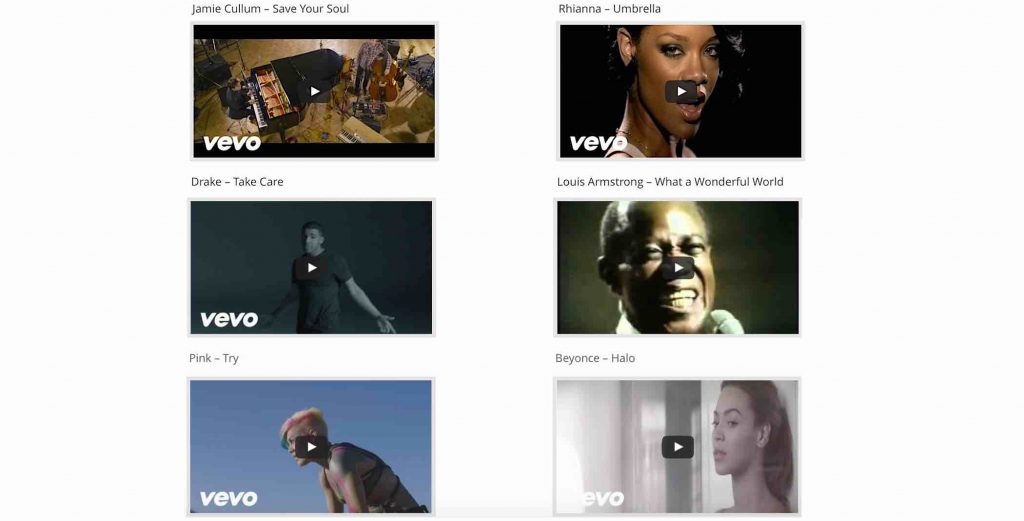 MENTOR EMAILS | You'll receive weekly emails from me – so that you stay on track over the long term. Includes lesson summaries, reminders of key points, and answers to member questions.
Who Is The Musical Ear For?
The Musical Ear is for adult musicians (18+) with 5+ years playing experience.
Reading music is NOT necessary, but you must understand the piano keyboard which I use to teach.
This course is created for piano players – even if piano is your 2nd instrument – so that you can play a complete cover of any song, with melody, chords and bass line.
If you're experiencing the following – this course is for you:
"I lack confidence in music because I never had formal training" – This course is akin to a university degree in ear training and harmony. I fill in all of the gaps to your music theory knowledge, so you can enjoy complete confidence in your abilities, with no doubts holding you back.
"I'm overwhelmed with information and don't know what to practice" – This course takes you by the hand and teaches you the right things in the right order. It boils down your music practice into the few important activities, and cuts out the distractions.
"I've hit a plateau in my playing – I'm not making progress and I desperately want to break through to the next level" – You've likely hit a plateau because your ear isn't developed. If your ear is at level 2, then all of your playing will be stuck at level 2. I'll show you how to train your ear up to 10, which allows all other skills to rise to a 10 too.

Do you feel any of the following?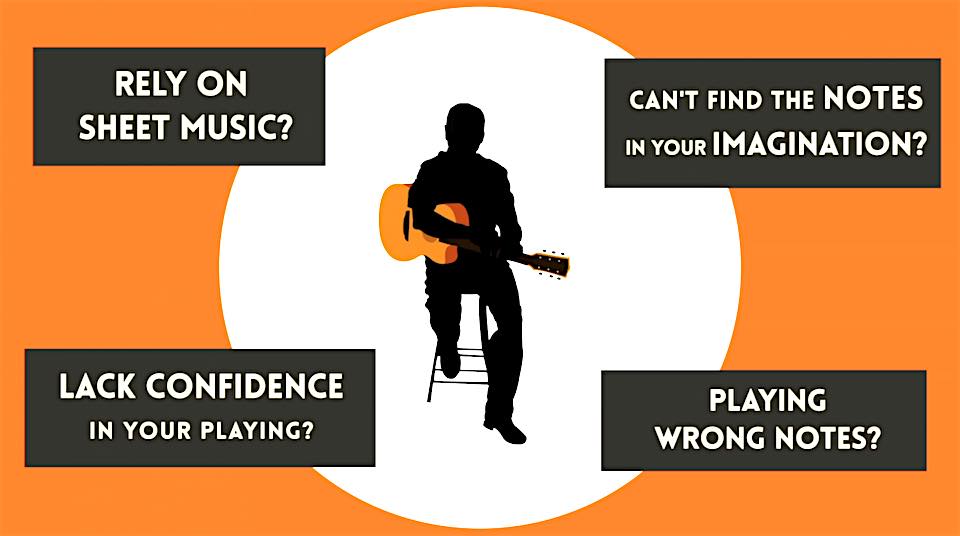 If so, The Musical Ear is made for you
Who Is The Musical Ear NOT For?
Children: This course is akin to a university lecture style, and for adult musicians (18+).
'The Part-Timer': If you're only casually interested in music and you're happy playing from sheet music for enjoyment, this course is not for you. This course requires dedication for at least 90 days.
Rigid taste in music: I'm well known for my Jazz teaching on YouTube, but Jazz is too advanced to start ear training on. This course focuses on diatonic music and I use mostly modern popular music to teach and test you (Beatles, Pink Floyd, Michael Jackson, Justin Timberlake, Usher, the Police, Madonna, and similar artists). If you dislike this type of music then you might not enjoy this course.
Testimonials
Here are some voicemail messages I received from Musical Ear members:
And here's a video review filmed by two Musical Ear members – Fredrick and Filip from Sweden:
How Much Does The Musical Ear Cost?
The Musical Ear is akin to a college education in music (in fact it goes beyond the ear training I experienced at college).
If you were to meet with me in person – or any teacher, it would cost thousands of dollars to cover this much material.
But thanks to the wonders of the internet, I'm able to package this training into video format – for a fraction of the price.
The price of The Musical Ear is $497. This is a one-time payment. It gives you lifetime access to the course. No recurring payments – ever.
Plus I'll send you any future additions and upgrades to the course – for no extra charge. Even if the price increases in future.
90 Day Money Back Guarantee
I realize that this might be the biggest investment you've made in your music education to date, but I genuinely want this course to help you, and I don't want anything to stop you from trying it.
This is why I give you my 90 day Money Back Guarantee. If for any reason you decide it's not right for you, just email me and I'll refund 100% of your purchase – no questions asked.
And I'll even keep your member's account active – just to say thank you for trying it.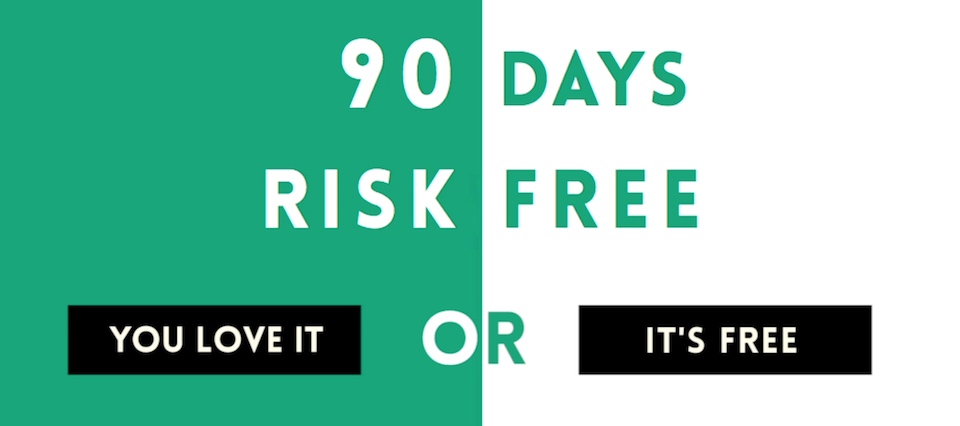 I truly believe in the power of this training. I've seen it change many people's lives already – and I want it to change your life too. So if you're on the fence, I would rather you try the course and ask for a refund – than not try it at all.
What To Do Next…
I'd love to take you on this amazing journey – to help you smash through the invisible barrier that prevents almost all musicians from reaching their true potential.
So to get started, click the button below. Fill out the one page checkout, and then you'll get complete access to the full Musical Ear course. You can start learning in just a couple of minutes from now.

Quick-fire Q & A
How many lessons are in the course? Currently 32 videos (will soon be 40) – each roughly 15 minutes.
Do I really have to do all playing in one key? No – I don't expect you to do 100% playing in one key, and I don't ask you to stop playing your existing repertoire. I just ask you to do all of your transcribing practice in one key.
Can I choose my own key? Yes – but I teach everything in the key of C major / A minor which means you'll have to transpose the lesson into your chosen key after watching.
How long should I play in one key? I promote transcribing in the same key ALWAYS (I still do!) But between 4 months – 1 year is when most of your development will take place.
Will I be able to play 100% of music by ear after watching this course? No – ear training is an ongoing practice. You never reach a state of 'perfection' – but you can get very close. Within a 2 year period it is realistic to be able to play 100% of diatonic / pop music by ear, and 70% of non-diatonic music.
Are the videos downloadable? Videos are downloadable for Lifetime members. One-Year members have to log in to view the lessons.
Will you be adding to the course forever? No – the course already presents a lot of material and I don't want it to be overwhelming to new students. This course is focussed on ear training. It's not the be all and end all of all things music. It's not a jazz piano course, it's not a technique course… It is to teach you to play music by ear.
One-Year or Lifetime? The Lifetime is the best option, it allows you to watch the course over and over and revisit in 2-, 4-, 10-years time. However if price is a barrier and you have time to go through the course more quickly, then the One-Year is for you.
The price of this course is more than anything I've bought before. What makes this course so special? The Musical Ear resembles a full university degree in music – no exaggeration. It goes into FAR more depth on this topic than anything else I've seen INCLUDING my own university education (both undergrad and postgrad). It packs over 10 years of my own hard lessons into a concise course, and is offered at a fraction of the price of most people's music education.
Can I trust you with my credit card info? This is an https secured website, and all payments go through PayPal's secure checkout. If you're not happy with a payment you made, you can email me for my '90 day money back guarantee'. In addition – PayPal also gives you seller protection for 90 days so you can always dispute a transaction with PayPal too.
Do I need a PayPal account to buy this course? No – you have the choice to pay with either a credit / debit card or a PayPal account; Whichever you prefer.
I'm not sure if this course is right for me. What should I do? I made this course to help musicians reach their full potential, and I genuinely want it to help you. So if you're on the fence, I'd rather you try the course than not – and if it's not right for you I'll be happy to refund your purchase. Sound good?
More Testimonials

Here's just a handful of messages I received by email from Musical Ear members:
"Wow, played all videos and feel like I have taken a 4 year Berkley in 5 hours. A wonderful thesis in music theory and practical. I think your presentation hits on all cylinders and will be a wonderful tool for students. Way ahead of your original works which in themselves were excellent.
[…]
I'm just up to your Transcribing Jazz Lesson part 3 and what a wonderful piece of work that is. The way you have created your Ear Training course is pure genius and I realize I need to go right back to the beginning and slowly work through it. Not just from an ear training standpoint but there is so much theory in it, it is a gold mine of information and presented in a way I enjoy – factual and to the point without wasting time."
Ray Huckell, Toronto, Canada.
"These new tutorials are outstanding Julian! Especially for pianists like me who lack the fundamentals and have an insatiable passion to improve ear training. You so very beautifully explain in simplest terms the spectral relationships between melody, harmony and bass within an octave. I've spent a lifetime sitting in front of the piano trying to understand it and these new tutorials give us all a much greater shortcut to do just that!
[…]
I realized as we drove yesterday to go fishing and listened to pop radio that I was using my ear in a new and different way, to understand and study intervals. I feel had I been taught this particular method I'd have been conscious of my abilities at a much earlier age. It makes me smile to finally realize at my age I can do this. It was you who awakened me to the logic and process."John Riger, Aspen, Colorado.
"Hey Julian! Just checked your ear training playlist and I've listened to it already for the 8th time, and I love it!!! Great examples and I love your melodies. For me, and I can only speak for me, the content is clear and on point. I really like the way you understand music, for me you are the best teacher!
I started playing keys about 1.5 half year ago. Since then I've watched so many videos about chord functions, relative major minor stuff etc, but since hearing your ear training I've got a different view on chords and intervals in a very positive way. I used to struggle with recognizing chords and used to feel overwhelmed, but you've given me the tools which makes it a lot easier to transcribe chords.
[…]
Since I heard your ear training material I listen to music in a different way – really thanks for that, it makes me greedy for more! Thanks again, and I'm waiting like a child for christmas for more new stuff!!!"Adrian Ryzka, Vienna, Austria.